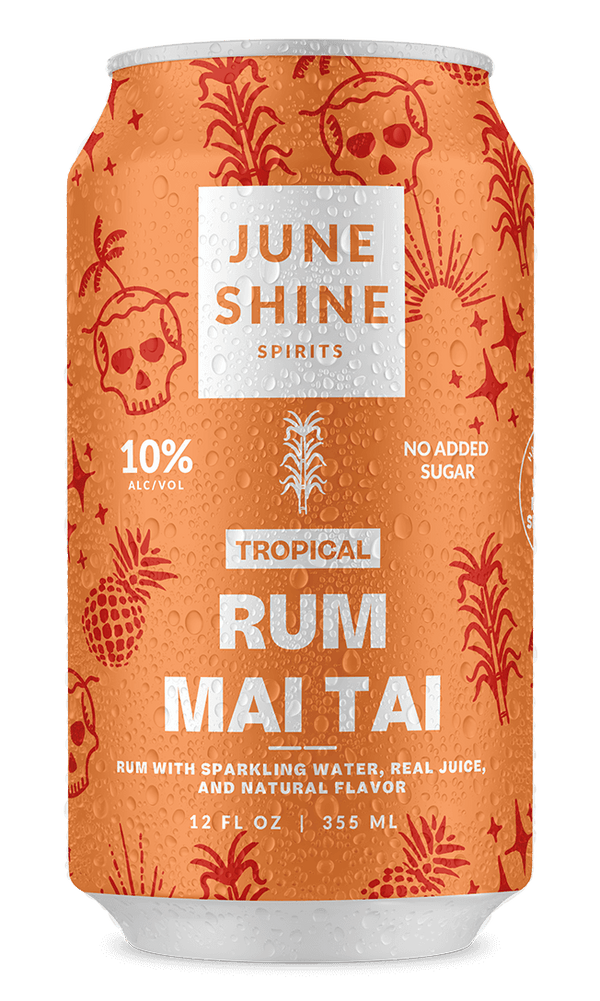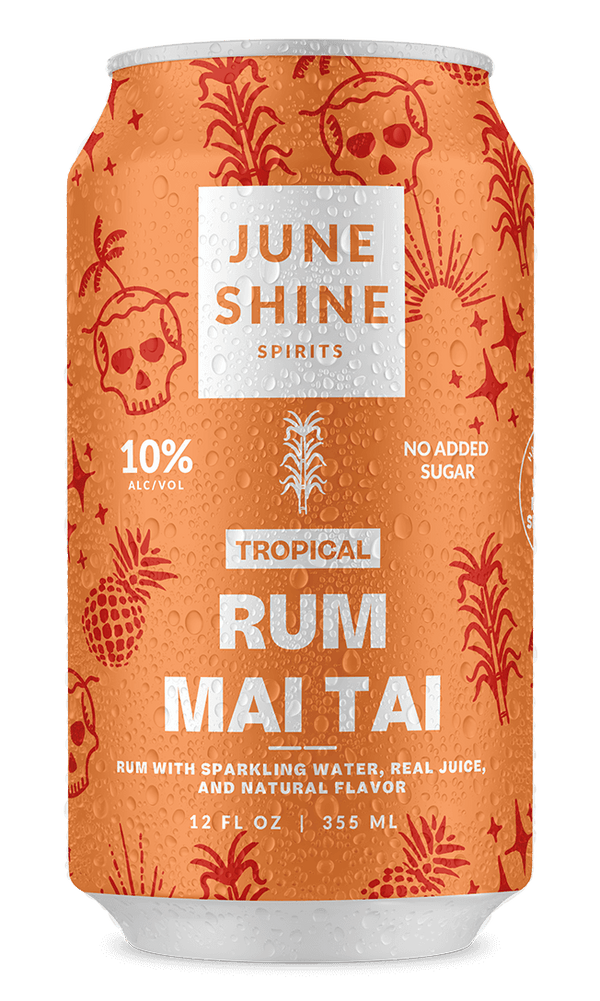 Tropical Rum Mai Tai
Spirits
Paradise in the palm of your hand. Rule the day and ignite the night with a legendary luau of real rum, orange, pineapple, and lime. Guaranteed to tickle your tiki.
Flavor: Tropical Rum Mai Tai
Tasting notes
We use premium rum and real juice to give our version of this classic tiki cocktail some edge to balance its natural sweetness.
Ingredients
White rum
sparkling water
orange
cherry
lime
pineapple
allspice
Crafted with premium
 award-winning spirits, real fruit juice, sparkling water, and no 
added sugar.
Nutrition Facts
12 OZ SERVING

Sugars:

8.2G

Fat:

0G

ABV:

10%

Calories:

231

Carbs:

8.1G
The residual sugar in our final product comes from organic fruit instead of from added sugar or fake sweeteners. This cocktail is gluten-free.
Do you sip and tell?
Write a review
Help
91%
of reviewers would recommend this product to a friend
Delicious
Great cocktail. Not overly sweet. Good balance of flavors. Yay.
I don't recommend this product
Terrible Mai Tai - taste like a coconut/lime tart drink. Horrible and nothing like a Mai Tai.
I thought I would try this and it was horrible tasting. I have had Mai Tais from all over the islands and loads of restaurant and bars but this one is shockingly terrible and not even close to tasting like a Mai Tai.
It has some strange coconut lime with cherry tart taste that is far from the normal sweet Mai Tai.
I give it 1 star as 0 is not available. Returned it to Ralphs for a refund.
Hopefully they will post this review as many times they delete the bad ones.
Thank you for taking the time to provide us with your feedback and we'll pass this along to our team. Our goal is to offer a canned cocktail option with minimal sugar for our customers and our Mai Tai has no added sugar. We appreciate you giving JuneShine a try and feel free to follow up with our team at orders@juneshine.co if you have any additional feedback or questions.
I recommend this product
Delicious authentic flavor!
I love when a drink leaves you feeling good instead of gross. This one is light but strong and not too sweet, just right.
Hot day
Very good drink for a hot day
You ask. We answer.
What's JuneShine Spirits?
Our JuneShine Spirits are fresh canned cocktails made with real fruit and spices, no added sugar (except Vodka Mule), sparkling water, and ~2 shots of premium alcohol per can. No sugary syrups, preservatives, additives, or coloring.
What do JuneShine Spirits taste like?
We're biased, but we think they taste just like a cocktail you'd make at home: fresh and made with real ingredients and premium tequila, rum, or vodka.
Is JuneShine sustainable?
We donate 1% of our annual revenue to sustainable non profit foundations certified by 1% For the Planet, and every day, we make choices that support the environment. We use sustainable packaging, we print on recycled materials, and more.
Learn more