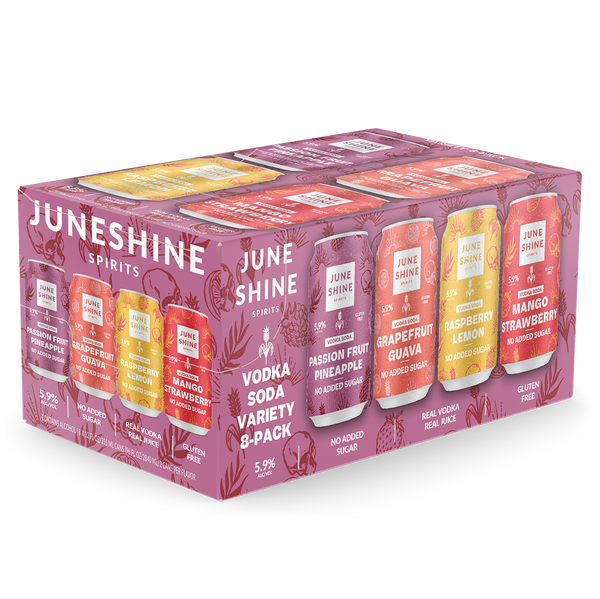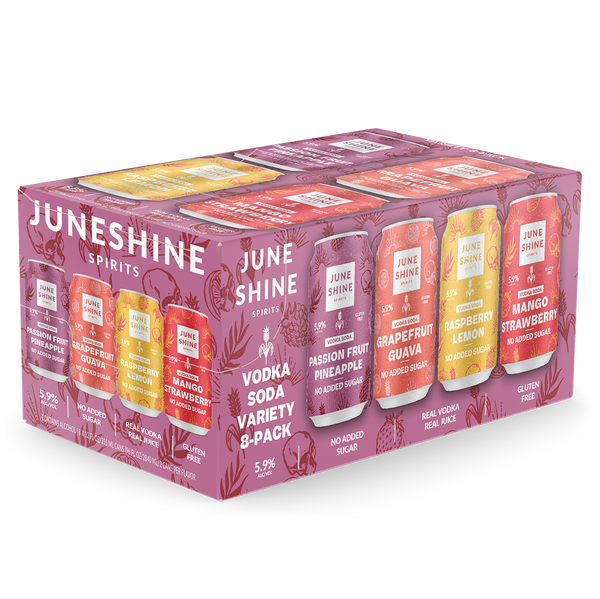 JuneShine Spirits Vodka Soda 8-Pack
Spirits
Meet our most sessionable pack yet. At only 5.9% ABV, the Vodka Soda Variety Pack is the best of both worlds: real, premium vodka on vacation with a splash of real fruit. It's your own personal sip trip without the jet lag. Bon voyage!
Buy Now
Tasting notes
Ready for something a little lighter? At 5.9% ABV and with all-new flavor combos, these vodka sodas are almost too easy to sip. We've got your tastebuds covered with everything from sweet to tangy to tropical in this pack.
Ingredients
Passion Fruit Pineapple
Grapefruit Guava
Raspberry Lemon
Mango Strawberry
Nutrition Facts
12 OZ SERVING

Sugars:

4-5.5g

Fat:

0G

ABV:

5.9%

Calories:

135-140

Carbs:

4-5.5g
The residual sugar in our final product comes from fruit juice instead of from added sugar or fake sweeteners.
You ask. We answer.
What's JuneShine Spirits?
Our JuneShine Spirits are fresh canned cocktails made with real fruit and spices, no added sugar (except Vodka Mule), sparkling water, and ~2 shots of premium alcohol per can. No sugary syrups, preservatives, additives, or coloring.
What do JuneShine Spirits taste like?
We're biased, but we think they taste just like a cocktail you'd make at home: fresh and made with real ingredients and premium tequila, rum, or vodka.
Is JuneShine sustainable?
We donate 1% of our annual revenue to sustainable non profit foundations certified by 1% For the Planet, and every day, we make choices that support the environment. We use sustainable packaging, we print on recycled materials, and more.
Learn more